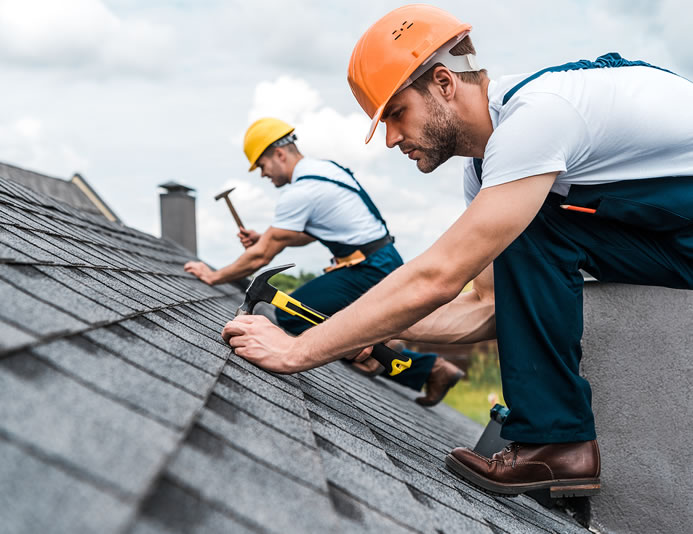 Roof Repair in Atlanta
Your roof protects your building from the elements but is damaged at the same time by those same elements. Unfortunately, roofs can be damaged by more than just what it protects against. An incorrect roof installation in Atlanta can even end up forcing you to get a premature roof repair. Luckily, finding a roof company in Atlanta is not a treasure hunt. Pro Atlanta Roofing is your local roof company in Atlanta with experienced roofing installers and roof contractors. When you need a roof repair in Atlanta, call Pro Atlanta Roofing to speak with the professionals and schedule your appointment. We handle both residential and commercial roofing replacement and repair. Call now to get started.
Common Roof Problems
There are many potential issues that can arise with shingle roofs. Pro Atlanta Roofing has been in the industry long enough to have dealt with many of these problems and we are proud to offer our roof repair services to all areas of Atlanta. Some of the common roof problems that we deal with are:
Ell Flashing Not Sealed Correctly
Incorrect Offset
Pitch Transition Not Flashed
Flashing Seams Separating
Shingle Vent Not Sealed Correctly
Punctures in Roof
No Sealant at Flashings
No Starter Strip
Fasteners Uplifting
Granules Loss
Rusted Flashing
If you are aware of a certain problem with your roofing, then call Pro Atlanta Roofing to schedule your roof repair or roof replacement in Atlanta. You can alternatively schedule an appointment for an inspection. This way we can get in the way of small issues before they become problems.
Roof Replacement in Atlanta
Residential and Commercial Roofing Repair in Atlanta, GA
Commercial and residential roofs require different Atlanta roof replacement and roof repair methods. Having a single roof company in Atlanta handle both residential and commercial roof repair and roof replacement is especially helpful for dual home and business owners. It also means that we have a more thorough understanding of roof services than most other roof contractors. So, when you need expert roofing installers and repairers, call Pro Atlanta Roofing. Our team is ready to take your call and bring that roof above your head into a great condition.
Emergency Roofing Services
Roof damage can happen in the blink of an eye and at any time of the day. We have been in the business long enough to know that these emergency repairs should be done as soon as possible. We are proud to be able to provide our emergency roof repair and roof replacement in Atlanta at every time of the day. When you need 24/7 emergency roof repair in Atlanta, you can put your faith in the professionals at Pro Atlanta Roofing. Our friendly representatives are always ready to take your call. Don't waste time searching the web for "roof repair near me" only to be sent to voicemail. These repairs cannot wait until business hours to be handled. Call Pro Atlanta Roofing to have it taken care of as soon as possible. We look forward to taking your call.